NEWS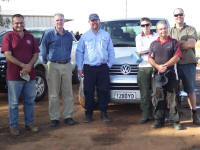 Meet the newest members of the 1200 Club
(L to R) Dave Xuereb, Brian Patsky, Brett Bond, Alan Forbes, Nev Lyons & Ben Goodwin
NSW Match Rifle &
Long Range F Class Championships
Results
Photos
South Australian Match Rifle &
Long Range F Class Championships
Results
Grade Points
Updated May 2016
Click Here

Australian Match Rifle Association
Discussion Paper
Your input on strategies for the promotion of the long range shooting disciplines in Australia is needed. Please provide comment on the discussion paper by 8th May 2016.
Official Team Photos from Tasmania
Now Available
Click Here To See Photos Available
(note these are low resolution versions of the ones available)

Please Contact Team Captain or Manager to place your order
Photos $15.
There is also a disc available of photos taken over the week. Cost is $5 if purchased with a photograph/s or $10 if purchased separately

Australian Match Rifle Association
Newsletter
March/April 2016

Results from Nationals in Tasmania
Congratulations to all the winners !
Woomera Match & Woomera Photos

Australian Championships (Individual) & Photos

Maloney Match Rowlands Match Mincham Aggregate

McEachran Trophy Phil Cole Trophy

Freebairn Teams Coolibah Trophy
What Is Match Rifle?
Match Rifle Shooting is long range target shooting conducted over the distances of 1000, 1100 and 1200 yards or 900, 1000 and 1100 metres - i.e. where normal full bore target shooting stops, Match Rifle shooting starts!
Great Britain and Australia are the leading exponents of Match Rifle shooting. It was established in United Kingdom over 150 years ago. By comparison Match Rifle shooting in Australia is in its infancy only commencing in the mid 1990s.
Match Rifle shooting uses centre-fire .308W rifle with telescopic sights (if desired). It can be shot either prone or supine (back gunning). In the prone position a rest for the front hand or forearm is allowed.
Match Rifle events and Associations in Australia also cater for Long Range F Class Shooters


This Website Is Sponsored By Members Of The Australian Match Rifle Association